Do-it-Yourself Dog Washing
Giving your pet a bath at home means hair-clogged drains, dirty tubs, and a sore back. At Fancy Paws LLC, we do away with the mess and stress with our self-service dog wash in Elkins, WV. Our raised tubs accommodate dogs as little as a Dachshund, and as big as a German Shepherd.
Our DIY dog washing is only $20 and includes everything (different shampoos such as sensitive skin and de-shedding, towels, aprons, and driers). The best part? We clean up the mess! Call (304) 636-4916 with any questions & our friendly, well-informed staff are happy to help.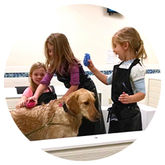 Self-Service Dog Wash
Our self-service dog wash permits you to stand in comfort at the dog washing station, and we provide all the things needed to give your dog a professional wash. No scheduled time needed. The last bath is one hour prior to closing time. We are open today until 6:00 PM.
Come visit our pet supply store in Elkins, WV specializing in quality food, treats, and supplies for cats and dogs.